Car enthusiasts and physics concur: Tallness is inherently at odds with fun. At least when it comes to driving; Wilt Chamberlain probably disagreed. Regardless, the tall, banausic crossover proliferates. So abundant are these be-hatched trucklets that we find ourselves desperately trying to classify them, adding words such as "premium," "compact," and—wait for it—"performance." Yet those three adjectives aptly characterize the machines before you, all of which occupy a tiny but expanding corner of the crossover universe.
Despite the funneling of crossovers into ever-smaller buckets, narrowing the field for this test was actual work. Alphabetically, then: Alfa's Stelvio effectively straddled our field's $55,000 base-price/350-hp requirement with a 280-hp, $42,990 starting model and a 505-hp, $77,000 Quadrifoglio. BMW's X3 and X4 M40i had similar problems, the X3 lacking power and the appropriately priced and competitively powerful X4 M40i lacking a practical roofline. Infiniti's QX70 is just too old, its last redesign coming almost a decade ago. Jag's F-Pace was beaten in our visit to this segment in 2016, and Volvo's hottest XC60powers its rear axle with an electric motor.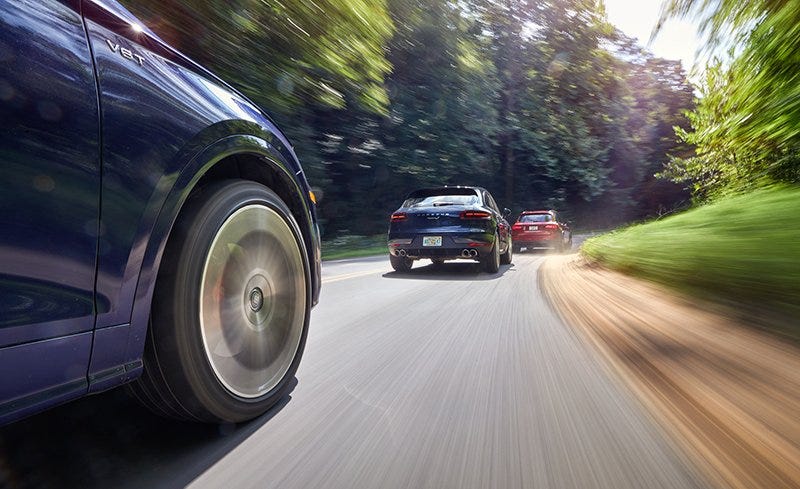 That leaves Audi's freshly minted SQ5, Mercedes-AMG's GLC43, and our returning champ, Porsche's Macan. To save $12,800 this go-round, though, we've substituted the Macan S for the GTS, which showed its rounded rump to the Jag in last year's matchup. There is an immense amount of common ground among the three assembled, starting with base prices, all of which fall within an improbable $620 window. All three are powered by longitudinally arranged turbocharged 3.0-liter V-6 engines and come standard with all-wheel drive. All are within a single inch of one another in overall length. And all three were created to reconcile the absurdly American priorities of sitting high and going fast.
Built on the VW Group's MLB Evo platform, which also carries the S4and S5, the 354-hp SQ5 starts at $55,275 (in Premium Plus trim) and is the newest crossover in this contest. Its Prestige package, which includes navigation, Audi's Virtual Cockpit configurable instrument cluster, and a few more tricks, added $4200 to our tester. Another $3000 tapped the S Sport package, endowing the SQ5 with red brake calipers, a torque-vectoring rear differential, and height-adjustable air suspension, for when you can't resist the suburban Rubicon. Rounding out the performance options are $1000 21-inch wheels. All in, this is a $65,800 SQ5.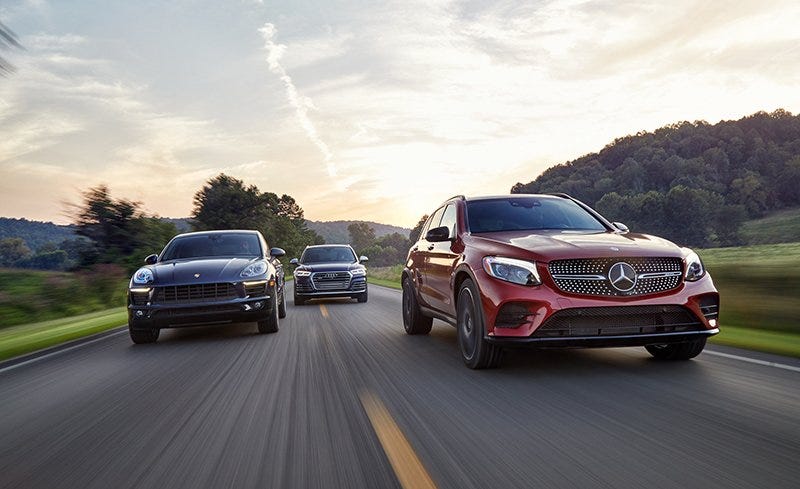 With 362 horsepower and a $71,055 as-tested price, the GLC43 is both the most powerful and most expensive vehicle in this test. Don't blame its $55,895 base price, though—there's plenty of fat to cut from our heavily equipped example. Capable self-parkers, we'd gladly surrender the $1550 Advanced Parking Assistance package. Forgoing another $4130 in paint and upholstery options would put the GLC's as-tested price right between those of the Macan and SQ5. Being an AMG means most of the performance options, such as height-adjustable air springs, are built into the base price, but 21-inch wheels come with a $1000 burden here. Navigation and multiple driver-assist and safety features are provided by the $5950 Premium package.
As our reigning champ of all things small, tall, and sporting, Porsche's Macan uses VW's older MLB platform shared with the previous Audi A4, S4, and Q5 variants. With 340 horsepower and at $64,905 as tested, it proffers the most modest output and price in the test. Four performance-enhancing options totaling $5400 stand out: Porsche Active Suspension Management, Porsche (brake-based) Torque Vectoring Plus, 20-inch wheels, and the Sport Chrono package. Our tester also came equipped with navigation, lane-change assist, and heated front seats.
Though we might not know exactly what to call these things, we do know just where to drive them. Continuing a long tradition of incensing the Ohio State Highway Patrol, we headed out from Ann Arbor, Michigan, to southern Ohio's Hocking Hills where the roads are technical, fraught with blind crests, and tighten mid-corner. We logged 700 miles in three days, smoking brakes, scrubbing tires, and having, well, fun to reach this conclusion.
But wait, you say, this is the newest and best from the company that arguably first laid claim to the tiny piece of performance pie in dispute here. And truth be told, this SQ5 is a very solid machine. Well, solid is the wrong word since the SQ5 is the softest of the threesome, even in Dynamic mode. It rolls where the GLC and Macan stand straight. Despite tying the GLC for the most lateral grip (0.93 g), it washes out sooner when pushed in corners and it speaks with a heavy accent that sounds a lot like understeer much of the time. Its on-road behavior is at odds with the easy rotation induced by its torque-vectoring rear differential in slalom testing (where, incidentally, it was still the slowest). Being the tallest and heaviest member of the trio likely has something to do with all this.
The SQ5's V-mounted twin-scroll turbocharger, however, is a lag-free ally delivering boost response that resolutely follows its driver's right foot. Paired with ZF's eight-speed auto, thrust is only a pedal stroke away. Even so, this transmission, which we've praised in so many applications, swapped cogs noticeably slower than the Mercedes and the Porsche gearboxes and delivered the occasional slurred shift at part throttle. The SQ5 is the slowest to 60 and through the quarter-mile, completing those milestones in 5.1 and 13.7 seconds, respectively.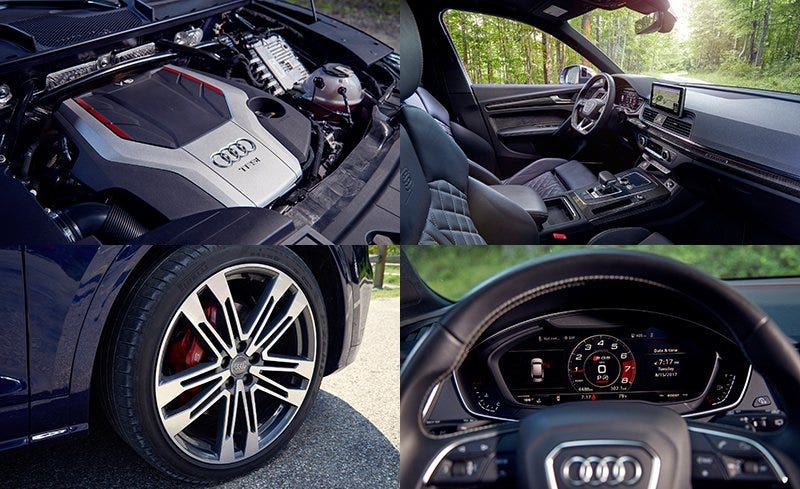 But crossovers—even these crossovers—shouldn't live and die on performance alone, so the SQ5 does its dying inside, too, where the promise of its big numbers belies the reality of its roominess. It leads the pack in hard metrics such as interior volume and cargo space, yet when we packed its back seat with our 6-foot 2-inch deputy editor, he complained loudly about the territorial dispute happening between his head and the roof. With three across in the rear seat, the SQ5 felt no roomier than the dimensionally smaller Macan.
Driver comfort is a win in the Audi, which offers enough space for even the oafiest among us while still coddling the bony backsides of the avians on staff. And its interior is our most preferred combination of striking modern tech and intuitive usability. But despite a tie for the win in roadholding and making the shortest 70-to-zero-mph full stop, the SQ5 ranks lowest in our fun-to-drive category. Coupled with the damage done by its deceptive back-seat space and worst-in-test acceleration, the SQ5 finds itself, precariously, a righteous crossover in last place.
It's telling that the Macan makes the least grip in the group (0.91 g) but decisively excels at every subjective measure of chassis evaluation. Its steering and brake feel, ride quality—with the only steel springs in the test—and handling scores are all tops here. That, friends, is the Porsche magic. It's not about numbers, it's about feel. That same deputy editor who so disliked the SQ5's back seat succinctly summed up the Macan: "The others feel as if they've had performance added to them, while it's just built into the Macan." And so it goes. Flowing confidently over square-edged swells, dancing effortlessly through overcooked closing-radius turns, and laughing off the occasional airborne crest, the Macan is the machine to buy if you're a driver in need of a crossover. Its seven-speed dual-clutch transmission is ultraquick and obedient and offers the most intuitive shifter in the group. The Macan might not win this test overall, but it certainly wins our hearts.
Also, it's not slow. As the only vehicle here with a legitimate launch control, it rules the Stoplight Summernationals by revving to an honest 5000 rpm before pinning its passengers to the seatbacks. Sixty arrives in 4.7 seconds, the quarter-mile in 13.3, and it continues, according to Porsche, all the way up to 156 mph.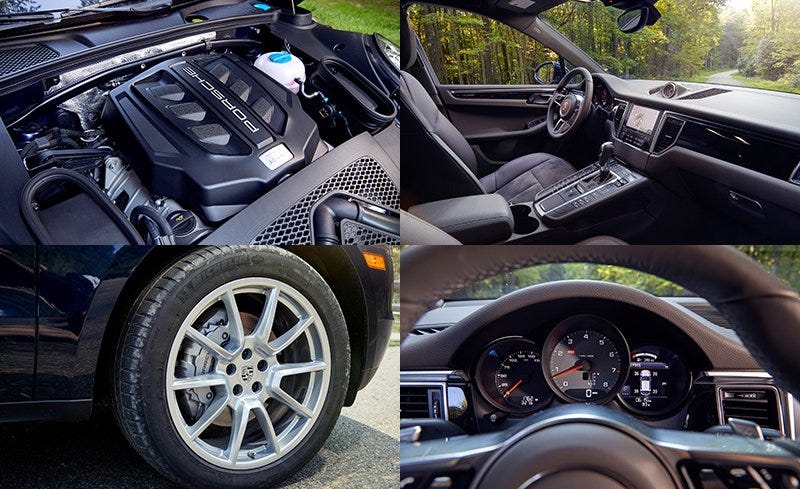 Inside, it's the smallest. Especially up front, where a sense of airiness and space is as important as actual volume. The Porsche's flowing body lines and curved fenders—we like them the most, incidentally—deny it roominess. The Audi might struggle in practice, but the Macan actually measures smallest, both in interior volume and in our practical tests where we put real boxes in real cargo areas. And when it comes to features, you get less for your money in the Macan than in either the Audi or Mercedes. The Macan's base seats aren't all leather and they lack the adjustability of their competitors'. So the driver's crossover makes compromises that prevent it from winning a contest that rewards comprehensive achievement. That means it's not the best vehicle overall, but it still might be the best one for you.
Here's something we didn't expect to say: The GLC is the lightest and quickest-accelerating crossover in this test. It tore its way to 60 in 4.3 seconds, a full 0.4 second quicker than the Macan. And its powertrain shows huge flexibility by trouncing the others in our 5-to-60-mph test, beating the Audi by 0.6 second and the Porsche by 0.9. In Sport Plus, it is full of snort, ripping off full-throttle upshifts with a barely subdued blat. Gearchanges come with a kidney-punching whack and feel every bit as quick as those from Porsche's PDK dual-clutch transmission.
Though it's not our go-to vehicle when the speed climbs and the road turns, the GLC reveals shocking capability on our test loop. Its steering ratio isn't quite as quick as the Macan's, but its response is more immediate thanks to zero-lean roll stiffness. But enough is enough. The head-snapping lateral motions it produces aren't in any way justified by the grip it generates, even if it ties for the lead at 0.93 g. We found ourselves softening the damping to dial in compliance while retaining aggressive throttle and transmission settings to achieve a balance that is, if not as comfortable as the Macan's, easily as rapid.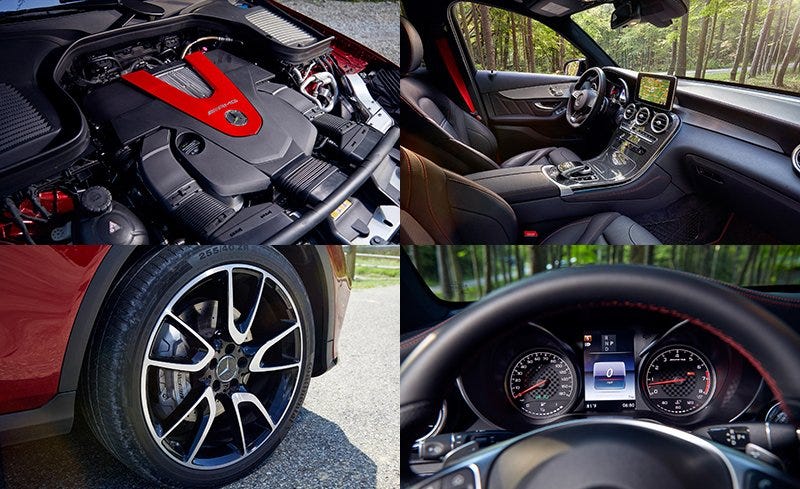 While the Audi's rear-seat volume matches that of the Mercedes, the GLC's back bench delivers both two- and three-passenger comfort, providing the headroom and the width necessary to accommodate adults. And to balance its cost, the GLC delivers features not found on either of the others, such as adaptive cruise control. It is as artfully finished as the Audi, and its buttons and knobs are refreshingly usable. Though we might not have a great label for the segment in which it competes, we do have one for the GLC: winner.
Source:https://www.caranddriver.com